Croatia can not accept the 'burden' of migrants, says PM
Comments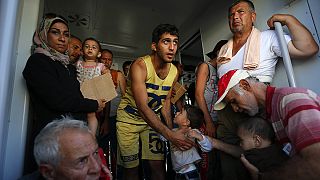 Croatia's prime minister said on Friday his country can not accept the burden of thousands of migrants any longer, nor register or accommodate them.
Zoran Milanovic said: "We cannot take it any more. In two days more than 13,000 people crossed into Croatia, a small number of them moved on, we cannot control that. However, we cannot accommodate them any longer either.
"Should we jeopardise the Croatian economy, tourism, transport network? I'll say it again – we have hearts, but we also have heads."
An overcrowded train departs from Tovarnik station in Croatia. #refugeecrisis for TIME</a> <a href="https://t.co/hZtISTXUFA">https://t.co/hZtISTXUFA</a></p>&mdash; Patrick Witty (patrickwitty) September 18, 2015
People have been trickling into the EU's newest member state for several days, their path to their final destination in western European nations like Germany forced to change following the introduction of tough legislation by Hungary.
The threat of imprisonment and deportation for those entering the country illegally along with riot police guarding a 3.5-metre high fenced border too much for the thousands seeking a better life.
On Friday (September 18) hundreds of people, including many women and children,travelled in buses from the Croatian city of Bell Manastir to the Hungarian border crossing of Beremend where police boarded them onto Hungarian buses. It was not clear were they were heading.
Meanwhile Hungary is working to complete a 41-kilometre fence along its border with Croatia. Hundreds of soldiers and police have been deployed to the area.
The border fence in #Hungary will stand for years, foreign minister Szijjártó says as he expects 30-35 million migrants heading to Europe.

— Szabolcs Panyi (@panyiszabolcs) September 18, 2015
This SergeyPonomarev</a> photo of refugees teargassed by Hungary is the face of Europe for many today <a href="http://t.co/J9PW9kelbG">pic.twitter.com/J9PW9kelbG</a></p>&mdash; reported.ly (reportedly) September 17, 2015