Cuba prepares for the three-day visit of Pope Francis
Comments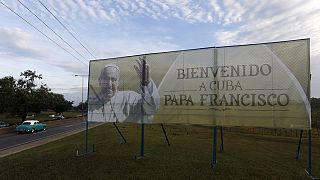 Cuba has been preparing for the three-day visit of Pope Francis to Cuba.
On Friday Washington eased sanctions on American companies which want to do business with Cuba, seen as another step in a thaw in relations.
Pope Francis was involved in the secret talks which led to the detente last December.
"The Pope has been involved in this process and we think that when he is here he will push for Cuba to open up to the world and the world to open up to Cuba as Pope John Paul II had said. I hope that this will be the moment that people's wishes will come true," said Miguel Arregui, Jesuit Superior in Cuba.
Elizardo Sanchez, President of the Cuban Commission for Human Rights and National Reconciliation said he feared there could be some detentions during the visit.
"We are under a government, a police state, and police states are extremely paranoiac, and we do not rule out that there will be a number of preventive detentions or even detentions during the activities where people will have gathered," he explained.
Despite those thoughts it's believed there will be no protests as some of the island's leading dissidents have said they will respect the visit as a religious and not a political event.
And in the central Jesuit Church where the much awaited Mass will be celebrated there is a quiet anticipation.