Time running out for refugees before Hungary border crackdown
Comments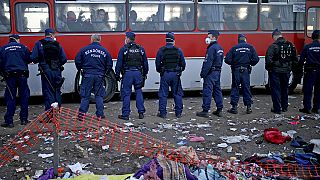 It was a race against time for refugees to get into Hungary on Monday with the country's hardline approach to the migration crisis about to get much tougher.
Record numbers of migrants and refugees have been streaming in from Serbia through the last gaps in a Hungarian border fence.
Now hundreds more police are being sent to the frontier to manage the new arrivals.
And from Tuesday, migrants and refugees who refuse to cooperate will face arrest and possible imprisonment.
The head of Hungary's border police, Laszlo Balazs, spelled out the scale of the influx.
"From January 1 until today, the police took action in 191,702 cases of illegal border crossings," he told reporters.
"Yesterday, the police intercepted 5,809 people. This morning before 8am local time, the police took action against 3,280 people."
The refugee camp at Roszke was empty on Monday morning after Hungary bussed new arrivals directly to the Austrian border on the next stage of their journey to northern and western Europe.
Conditions at the camp have been described as "filthy and overcrowded" by the group Human Rights Watch.
Hungary announced on Monday that it was stepping up security controls nationwide to maintain public order and prevent criminal activity.
"Within the context of controls, police can ask for identification and search clothing or vehicles," authorities said.
Hungary is on the frontline of Europe's worst refugee crisis since the Yugoslav wars of the 1990s, one that has sowed discord and recrimination in the 28-nation EU.
See the children caught in Europe's refugee crisis http://t.co/nkpe92Qakepic.twitter.com/W3NXYXDPDX

— TIME.com (@TIME) September 14, 2015