Russia votes in regional elections as opposition cries foul
Comments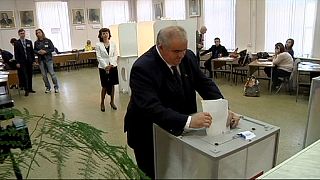 Votes are being counted following regional elections across Russia.
Around 59 million people are eligible to vote and the poll is seen as a precursor to the 2016 State Duma ballot followed by presidential elections in 2018.
The poll will provide United Russia, the party of President Vladimir Putin, with an overwhelming victory.
Russia's Regional Elections Marred by Pressure on Observers, Fraud: http://t.co/lm2GmgntIN (16 shares) pic.twitter.com/HZkiLwoNSn

— Russian Insight (@RussianInsight) September 13, 2015
The Democratic Coalition, an umbrella organisation for the parties of Alexei Navalny and murdered politician Boris Nemtsov, is only running in the Kostroma region.
This is what real #politics in #Russia can look like: opposition activist Alexei @navalny campaigning in #Kostromapic.twitter.com/TsvSxsremC

— Alex Kokcharov (@AlexKokcharov) September 8, 2015
The opposition has been barred from standing elsewhere.
#Russia regional elections today- Opposition barred & expect irregularities/false results http://t.co/JNQ7xGHAEypic.twitter.com/NnJbYkHK6f

— raging.me (@raging545) September 13, 2015
Putin's opponents claim they have been prevented from standing by technicalities in a politically motivated bid to stop them from contesting.
Navalny said he expects "major falsifications" in the vote.