German FM: 'significant progress' made towards resolving Kyiv-Moscow conflict
Comments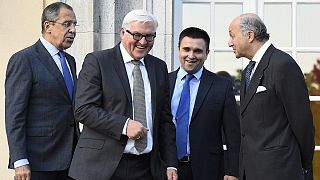 Germany's foreign minister says "significant progress" has been made towards resolving the conflict between Kyiv and Moscow.
Speaking after meeting his Russian, Ukrainian and French counterparts in Berlin, Walter Steinmeier said an agreement on the withdrawal of weapons from the demarcation line between separtists and military forces in eastern Ukraine was close.
He also stressed that Ukraine and Russia had agreed not to lay any more mines and to clear those already in place.
"We're hoping that Ukraine and Russia will stabilise the ceasefire in the long term," said Steinmeier.
"We would like to talk about details of withdrawing heavy weapons and also light weapons."
Ukrainian and rebel forces have blamed each other in the past for repeated ceasefire breaches.
But both sides are now broadly respecting an agreement that came into effect just under two weeks ago, according to international monitors.
Russia's President Vladimir Putin said on Saturday that it was welcome that fighting had stopped in eastern Ukraine, a change in rhetoric compared to his previous accusations against Ukraine of violating a ceasefire.
Until recently, Putin has repeatedly criticised Ukraine for failing to implement a peace deal agreed in February.