Night of surprises in Venice as debut film from Venezuela grabs Golden Lion
Comments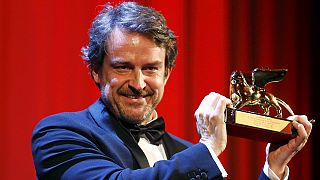 An unknown first-time director has won one of world cinema's most prestigious prizes, Venice's Golden Lion. Lorenzo Vigas, for his film "From Afar", (Desde Allà).
The film is also Venezuela's first-ever entry in the competition.
"It's first time in history that we have a film in Venice… We are an amazing nation and we are going to start talking to each other more, and we'll get through, I'm sure about it. Thank you very much to all, y arriba Venezuela!" he said, referring to Venezuela's currently fractious politics.
"From Afar" details the unlikely relationship struck up between a middle-aged gay man and a young street tough guy, but some critics felt it was too close in style and feel to Chile's Pablo Larran.
In general it was a night of surprises with some big names missing out and the film many had picked for top honours, Charlie Kaufmann and Duke Johnson's astounding stop-motion animated "Anomalisa", winning the consolation Grand Jury Prize.
Best actor went to France's Fabrice Lucini for his turn in "L'Hermine" which also won best screenplay for its director Christian Vincent.
And it was a second best actress award for Italy's Valeria Golino, who beat off competition from Tilda Swinton and Juliette Binoche, and who signed her delight to the audience after picking up her statuette.