Ukraine's Poroshenko confident Minsk agreement will be fulfilled by end of year
Comments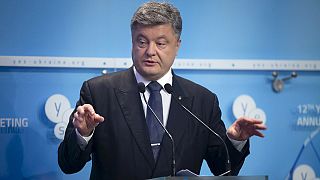 Ukraine's president Petro Poroshenko says he is optimistic the requirements of the Minsk peace agreement will be fulfilled by the end of the year.
But at the 12th Yalta European Strategy annual meeting in Kyiv, he said he was concerned that monitors are being denied access to sensitive areas on the joint border between Russia and Ukraine.
These are areas where they can track troop pullouts and the withdrawal of weapons.
"We're deeply concerned about the situation with the OSCE Special Monitoring Mission that can't get access to the border," said Poroshenko.
"We're deeply concerned that representatives are not allowed to visit those areas where fighters should hold weapons, that should have been withdrawn. We know there are not weapons there."
Violence in eastern Ukraine has mostly subsided under the Minsk ceasefire.
But the Kyiv military says thousands of Russian troops and separatists remain in the Donbass region. Moscow denies its troops are engaged there.
Speaking from Kyiv, euronews reporter Maria Korenyuk said: "Petro Poroshenko and Russian President Vladimir Putin will discuss the further implementation of the Minsk agreement on the 2nd of October, this is when the leaders of the so-called 'Normandy Four' will meet in Paris."