Macedonian authorities manhandle refugees at border
Comments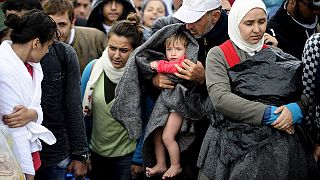 Dramatic and disturbing images have emerged of refugees trying to cross the Former Yugoslav Republic of Macedonia (FYROM).
In sodden conditions, thousands of people have been jostling for places on buses to take them northwards towards Serbia.
Clearly ill-equipped and seemingly heavy-handed, authorities have been struggling to cope.
It comes as FYROM's foreign minister suggested the country is considering building a Hungarian-style border fence to block the influx of migrants and refugees.
Thousands of refugees have been arriving in the former Yugoslav republic daily, with no sign that the stream will abate in the coming days.
A single-day record of 7,000 Syrian refugees crossed on Monday into the country.