Turkey continues to pound PKK targets
Comments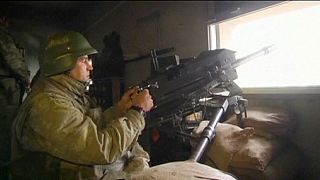 Turkish jets are continuing to pound Kurdistan Workers' Party targets in northern Iraq.
Ankara says many of the PKK's fighters have been killed.
More than 50 planes were used in the operation.
Pro-Kurdish
HDP

offices targeted

The local headquarters of the pro-Kurdish party HDP were attacked in several Turkish towns on Monday evening.

Hundreds are said to have gathered outside the office in towns like Manavgat, tearing down the HDP sign and raising the Turkish flag in its place.
Why the renewed assault?
It comes after 16 Turkish soldiers were killed in a PKK ambush in south-eastern Turkey on Sunday.
11 police officers killed, 4 injured in PKK attack in Turkey's eastern Iğdır province

September 8, 2015
Meanwhile, reports are coming in that eleven Turkish police officers have been killed in an attack on a minibus in Igdir in eastern Turkey.