Turkey pledges to wipe out the PKK after the Kurdish separatist group killed 16 soldiers on Sunday
Comments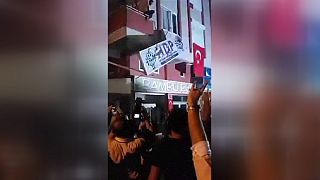 Premises belonging to or being used by the pro-Kurdish People's Democratic Party – the HDP – were attacked across Turkey on Monday.
Turkish TV channel IMC reported that 126 provincial and district branches have been assaulted by nationalists.
The violence was in response to the deaths of 16 soldiers who died in a PKK ambush on Sunday in the Yüksekova district of southeastern Hakkari province.
There have also been reports of Kurd houses coming under attack and of their vehicles being set alight in some places.
Earlier in the day Turkey's Prime Minister, Ahmet Davutoglu, pledged to wipe out the PKK in its mountain hideouts.
President Recep Tayyip Erdogan also promised a decisive response, saying he was saddened by the soldiers' deaths.
Turkey carried out several air strikes on PKK targets on Monday.
Many people fear in increase in violent incidents as the snap elections scheduled for November draw closer.
More than 40,000 people have died since the PKK launched its armed campaign in 1984.