Turkey vows to clear PKK stronghold as violence grows
Comments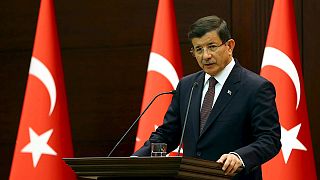 Turkish aircraft have launched retaliatory airstrikes on PKK positions in the country's mountainous southeast region.
After Kurdish bombing kills 16 Turkish troops, #Turkey responds with air strikes - http://t.co/uwYFzosFG2pic.twitter.com/qEpBjrra8R

— Voice of America (@VOANews) September 7, 2015
The attacks come after at least 16 Turkish soldiers were killed in a bomb attack on a military convoy on Sunday.
Following a security briefing Turkish Prime Minister Ahmet Davutoğlu delivered a hard-hitting riposte: "Friends, all these mountains where the PKK are based will be totally cleared.They will be cleared whatever it takes. That's it ! The mountains, plains, uplands, the cities of this country won't be left to the terrorists."
#Turkey will be 'cleaned of terrorists no matter what happens', says Prime Minister Ahmet Davutoglu pic.twitter.com/gQBlPnNIN5

— ANADOLU AGENCY (ENG) (@anadoluagency) September 7, 2015
The attack is the most bloody against the military since violence resurfaced between the PKK and the Turkish state.
Since July more than 70 members of the Turkish security forces and civilians have been killed
in the southeast of the country.
Several hundred PKK members are also reported to have lost their lives in airstrikes on perceived PKK bases in Iraq.
PKK militants claim deadly attack on Turkish soldiers http://t.co/pRzbGwPRaqpic.twitter.com/MtBCE5UBdu

— Huffington Post (@HuffingtonPost) September 6, 2015