EU announces agricultural aid after farmers descend on Brussels
Comments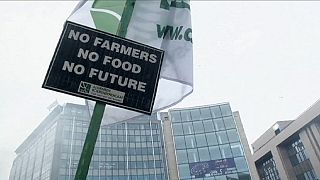 European agriculture ministers have announced a €500m aid package for farmers hit hard by plummeting prices.
When farmers gathered to protest in Brussels today, they weren't messing around: http://t.co/Bwwj3w6Zg1pic.twitter.com/Fj7hDHvN2T

— TheJournal.ie (@thejournal_ie) September 7, 2015
Thousands of farmers descended on Brussels clogging streets around EU buildings as ministers discussed the issue.
EU vice president Jyrki Katainen made the following announcement:
"Today´s Commission proposal is a significant, fast and concrete response to the current situation. €500m is real money which is supposed to help farmers to produce in a sustainable manner food for us who love food."
Today we decided significant €500M package which will address cashflow&structural issues of the #agriculture sector. pic.twitter.com/LAhsOJRHyF

— Jyrki Katainen (@jyrkikatainen) September 7, 2015
The bulk of the assistance will go to diary farmers, who have been hit hard after Russia banned imports of EU food produce in response to European sanctions over Ukraine.
Why milk is cheaper than water in Europe: http://t.co/pLvBpfJ9Lfpic.twitter.com/SpQEMQ1nIQ

— CNN International (@cnni) September 7, 2015
The Russian ban has taken some €5.5bn out of the export market annually.