Denmark: launches anti-migrant ad campaign
Comments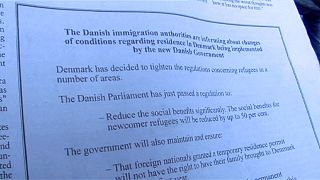 The Danish immigration ministry has placed adverts in leading Lebanese newspapers to discourage refugees from heading to Denmark.
#Denmark runs adverts in #Lebanon newspapers warning would-be #refugees to stay away https://t.co/ooJonSrk8ppic.twitter.com/DCGbmbLNgb

— I Was A Refugee (@sonnylebythebay) September 8, 2015
They warn that benefits have been cut by up to 50% for asylum seekers. 20,000 refugees are expected in Denmark this year, compared to 14,000 in 2014.
#Lebanon | Denmark puts ad in Lebanese newspapers about "tightening regulations" pic.twitter.com/MypCgS9wlM

— Zaid Benjamin (@zaidbenjamin) September 8, 2015
Lebanon, with a population of four million, is sheltering 1.1 million people.
"I found this funny at first," said one man, "because instead of advertising that 'we are helping refugees' in a crisis like this, they are cutting back on help for refugees, and it's in the form of an advertisement. It is as if they are selling something, which is really ridiculous"
"If they want to take humanitarian action, they could host a specific number of refugees, but not allow high numbers of refugees as the government did here in Lebanon," said another woman. "We now have almost two million refugees and we do not know who they really are or where they are from. This is unacceptable"
The situation in Denmark
Hundreds have crossed from Germany into Denmark over the last few days.
Many want to travel on to Sweden and so try to avoid being registered in Denmark.
Danish rules on accepting refugees are seen as stricter than many other European nations.