Austria says fight against ISIL needs Syria's Assad
Comments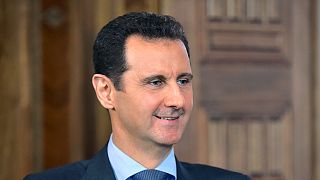 Could yesterday's enemy become today's ally? There are growing calls among Western leaders to negotiate with Syrian President Bashar al-Assad to solve the civil war causing thousands to flee to Europe.
Austrian Foreign Minister Sebastian Kurz said on Tuesday (Sept. 8) that the West should involve Assad and his allies Iran and Russia to fight rebel ISIL militants seeking to advance across Syria and to establish an Islamic "caliphate" in the Middle East.
Austrian President Heinz Fischer even met with his Iranian counterpart Hassan Rouhani in Tehran — making him the first EU leader to visit Iran in more than a decade. The pair gave a joint news conference.
Asked if Iran was willing to discuss the Syrian crisis with its U.S. and Saudi arch-rivals, Rouhani said: "Iran will sit down at any table if it sees that a secure, stable, and democratic future for Syria will be the end result of negotiations. We are ready to talk with all parties, with countries inside and outside the region."
Spain's Foreign Minister also said on Tuesday that negotiations with Assad were key to securing a ceasefire in Syria. Europe and the United States have long said Assad must step down for the country to find peace. But fighting jihadist rebels is now also a major concern.
The Syrian has killed over 250,000 people in the last four years. Russia's Foreign Minister said the EU could now only blame itself for the huge numbers of refugees knocking on its doors.
Speaking at a meeting with EU officials in Moscow, Sergey Lavrov said: "Justice requires those countries who unleashed the conflicts to face their responsibilities and provide humanitarian help to victims."
Russian President Vladimir Putin said last week that the U.S. and EU's foreign policies in the Muslim world were to blame for the influx of refugees. Putin also called for an international coalition against terrorism and extremism.