The end of the road: volunteers drive refugees from Hungary to Austria
Comments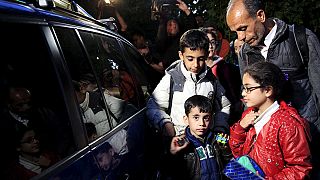 Answering a call made on social media, a convoy of cars has come to the aid of refugees wishing to travel westwards from Budapest.
Cars arrived in the capital from as far afield as Germany after the Hungarian government prevented international travel for many last week.
Volunteers also distributed food and clothes to the mainly Syrian nationals hoping to catch trains further west into Europe.
Hubert came from the Austrian capital Vienna:
"I think Europe has a tradition which is tolerance, which is human rights, which is good governance. And I think all these people who're fleeing from war, who're fleeing from terror, they have a right for a safe home. I think it's our duty to provide, to help them find a safe place."
Ana, also from Vienna, added:
"We're trying to help coordinate the situation with cars. People came from Vienna. Came here to pick people up to bring them to the border, let them cross the border by foot, walking, so nobody can be legally charged."
Austria and Germany have suspended random border checks to allow refugees to cross into the two countries. However on Sunday (September 6), Vienna announced it plans to end the emergency measures step-by-step.