Migrants crisis: Mogherini appeals for unity as EU ministers meet at odds
Comments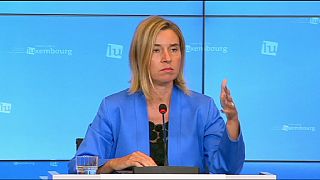 Austria has called on the European Union to "open its eyes" to the migration crisis, saying recent events had exposed the situation as a "shambles".
The comments from the country's foreign minister came as he and his EU counterparts held an informal meeting in Luxembourg, at odds especially over proposals for states to accept quotas of asylum seekers.
The bloc's foreign policy chief says there is agreement over plans to destroy smugglers' ships in the Med.
But amid little unity on the wider issue Federica Mogherini made an appeal.
"We have to strengthen even more our cooperation and work together without any kind of blame game among us Europeans – member states, candidate countries, institutions," said the EU's High Representative for Foreign Affairs.
.FedericaMog</a> Stop the blame game on <a href="https://twitter.com/hashtag/refugee?src=hash">#refugee</a> crisis. Time for decisions, keeping faith to EU values and human rights <a href="http://t.co/axvdX49P1z">pic.twitter.com/axvdX49P1z</a></p>&mdash; Sabrina Bellosi (sabellosi) 5 Septembre 2015
But the blame game is in full swing.
The Hungarian minister Péter Szijjártó cited what he called the EU's 'failed migration policy' and politicians' 'irresponsible statements' – seen as a reference to Germany over its decision to accept claims for asylum from all Syrian refugees.
Other eastern countries castigate the European Commission's idea to redistribute refugees among member states. Slovakia's Foreign Minister Miroslav Lajcak said it would simply act as an "invitation" for more refugees to come to Europe.
Adopting a different tone, Austria says it will welcome those who reach its border – saying they are free to claim asylum there or travel on to Germany.
"Last night was an eye opener, it reveals what a shambles the situation is in Europe right now. I hope this serves as a wake-up call that the situation cannot continue," said the Austrian Foreign Minister Sebastian Kurz.
Statement by the EPP Foreign Ministers on helping persons in need while protecting our EU external borders http://t.co/clEK3qBA5E

—

EPP

(@EPP) September 5, 2015
As Europe's leaders struggle over their response, the Finnish prime minister made an individual gesture.
Juha Sipilä said his house in northern Finland was little used at the moment and could take in asylum seekers from the start of next year.