Hungarian police scuffle with migrants and refugees at Serbia border
Comments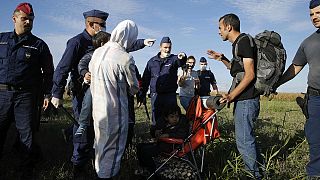 The situation at the Hungary-Serbia border remained tense on Monday (September 7).
The Hungarian defence minister resigned as scuffles continued between police, migrants and refugees.
They have been demanding to be allowed through to a migrant camp. Most say they're fed up waiting for buses and have suggested the young people walk alongside the police.
"We know the rules, we know that we crossed the border illegally and we have to go to the camp, that's OK," said one unnamed man. "But we are sitting here and at night the situation is very bad."
As pressure in the crowd increased one small boy appeared to have passed out and was being revived with water.
Happy to escape from Hungary
Meanwhile in Budapest, many boarded a train at Keleti international station to make their way to Vienna then Germany after being stranded for days in Budapest.
Migrants and Syrian refugees with children smiled and made peace signs as they boarded the train leaving Hungary.