Actor Jimmy Morales into Guatemalan presidential run-off
Comments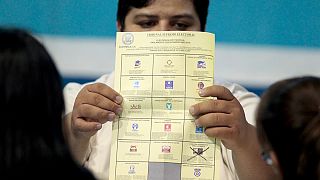 Popular comic actor Jimmy Morales is the front-runner heading into next months Guatemalan presidential run-off.

Newcomer #JimmyMorales leads in #Guatemala presidential poll http://t.co/Jr66W0FUuIpic.twitter.com/2c6p8td5GN

— Sputnik (@SputnikInt) September 7, 2015
Morales polled around 24 percent of the vote in the first round, way short of the required 50 percent for outright victory.
He looks set to face former first lady Sandra Torres in the poll set for October 25.
#GuatemalaDecide | Candidata Sandra Torres promete cambios profundos http://t.co/BD5OkrQrYH#EleccionesGTpic.twitter.com/NaqyU1z9Ok

— teleSUR TV (@teleSURtv) September 6, 2015
However, the final result has yet to be announced as Torres is in a tight race for second spot with businessman Manuel Baldizón.
¡Muy buenos días! Confiemos en nuestra fuerza para luchar y alcanzar lo que nos propongamos. pic.twitter.com/EsqvdQK4aV

— Manuel Baldizón (@ManuelBaldizon) September 5, 2015
Millions of Guatemalans voted in the general election for a new president, vice president, 158 members of congress and 338 mayors.
The country is in a state of turmoil after Otto Pérez Molina resigned as president on Thursday and is currently in jail pending corruption charges.
He is joined behind bars by his former vice president Roxana Baldetti and a number of close aides.
Powerful move by Guatemala: Country's President Jailed Hours After Resigning http://t.co/ADcFKKk5fbpic.twitter.com/GPV3q4BpI8

— Ryskeldi Satke (@RyskeldiSatke) September 4, 2015
Pérez Molina and Baldetti deny any wrongdoing.
The former head of state is accused of receiving bribes to lower taxes for companies importing goods into Guatemala.