Kentucky county issues gay marriage licences after clerk's jailing
Comments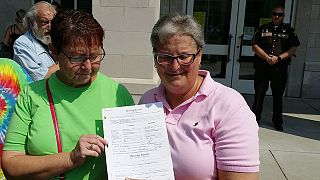 A county in the American state of Kentucky has begun issuing marriage licences to same-sex couples, after they had been blocked by the county clerk's refusal to do so on religious grounds.
Four gay couples received certificates on Friday. Among them were James Yates and William Smith, a couple who had been turned away five times.
Rowan County Clerk Kim Davis, an Apostolic Christian, was jailed earlier in the week after refusing for months a federal judge's order to issue licences.