Bangkok's Erawan Shine restored to public view after bomb blast
Comments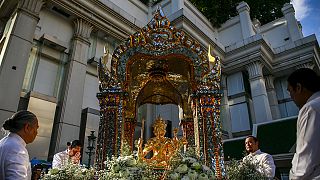 The Hindu shrine damaged in last month's bomb attack in Bangkok has been repaired and restored to public view at a ceremony in the Thai capital.
The Erawan Shrine, which is considered sacred by Thai Buddhists and is also popular with tourists, features a statue of the Hindu god Brahma and was damaged in 12 places.
Worshippers, priests and soldiers attended the ceremony.
Thailand's Culture Minister Vira Rojpojchanarat said it was important to raise people's morale and restore confidence in their safety.
Twenty people including 14 foreigners were killed and 130 injured by the bomb which exploded in a crowded area on August 17.
Two foreigners have since been detained and several arrest warrants issued. No group has yet claimed responsibility.
Police say a man arrested on Wednesday near the Cambodian border has admitted being close to the scene of the blast.
Fingerprints are said to link him to the room of the suspected bomber.