Paris or bust: French farmers demand government relief
Comments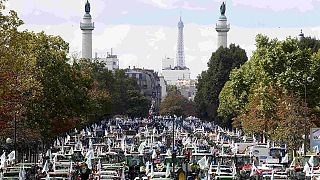 Thousands of farmers have converged on Paris from all over France in tractors and coaches to call for additional government support and structural reforms to help them.
Over the summer, agriculture in France reached crisis point as heavily indebted farmers struggled with tumbling prices.
The government promised new financial assistance, but they are calling for further help.
Pig farmer Gerome Pagon said: "We'd like the intermediaries to lower their share and not import too much. That hurts us — and other countries' producers don't have to meet the standards we do."
The farmers' union said it was expecting 5,000 farmers at a demonstration in the Place de la Nation in the east of Paris. As for support from the public, one woman said: "I am with them the whole way. I had a teachers' meeting to go to but I think this is much more important."
Farmers' delegates have pressed their demands with the government for tax breaks, and EU action to level the playing field. They blame increasingly slim margins on cheap imports and high payroll charges, which they say make them unable to compete against Germany, much less Eastern Europe or beyond.