AFC accused of compromising FIFA presidential elections
Comments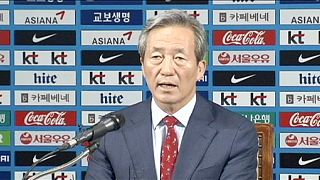 The race to replace Sepp Blatter as President of world football's governing body FIFA is hotting up.
Presidential candidate Chung Mong-joon of South Korea has accused the Asian Football Confederation of sending unsolicited letters to its members urging them to support his rival Michel Platini.
Something Chung says is compromising the elections.
Chung said: "Given that the Confederations exercise tremendous influence over its member associations in organizing football tournaments and through administrative oversight, it is clear that the fairness of the FIFA presidential election has been seriously compromised."
The letter is a form letter, for federations to fill out to express their support for Platini, who is the odds-on favourite to replace outgoing Blatter.
Chung said he had notified the FIFA Ad-hoc Electoral Committee and the FIFA Ethics Committee about the letters and demanded an investigation.
The 63-year-old billionaire scion of South Korea's Hyundai industrial conglomerate said: "We also requested the Ad-hoc Electoral Committee to promptly institute remedies sufficient to address the prejudice and harm already sustained by other potential candidates.
''This includes the nullification of any 'support' for the candidature of Mr. Platini received through the form letters sent by the AFC, the Senior Official of CAF and/or any other Confederation."
Of the 209 FIFA members who can vote for the next president, 46 are in the Asian Football Confederation, whose president is Sheikh Salman – a staunch supporter of Platini.
There was no immediate response from the AFC.
The new president will be elected February 26.