Hungarian police block refugees and migrants outside Keleti train station
Comments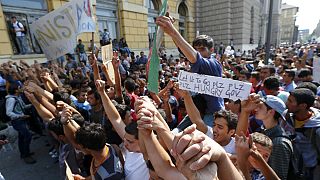 Hundreds of migrants and refugees chanted "freedom!" and defiant slogans outside Budapest's Keleti international railway station on Wednesday (September 2).
A large group of mainly Afghan people have been blocked by police from seeking asylum protection in Germany and other wealthy European Union member states.
Most wait to be registered inside a transit area where they're given food, water and medicine by volunteers.
Keleti station "has become a de facto modern refugee camp," according to the New York Times, "with migrants stretched out around the station and along its underground passageways."
"From the government we didn't receive anything, but from the Hungarian people… they are so nice for us," an Afghan woman told euronews.
An Afghan man was injured along the journey. He is still very optimistic but fed up with the situation in Budapest, he says he doesn't know why Hungarian authorities won't let him go to Germany.
"We've been living here like for seven days," he said, "[with] nothing for eat." He told euronews: "We don't have blankets, we don't have mattresses."
Germany's interior minister insists that Hungary must abide by the Dublin agreement which requires refugees to apply for asylum in the first EU member state they arrive in.
Budapest's train station has become a de facto refugee camp. http://t.co/hVKsx6s4xTpic.twitter.com/dGLhqwiKBj

— New York Times World (@nytimesworld) September 2, 2015