Austria: Afghan teenagers rescued from van which had doors welded shut
Comments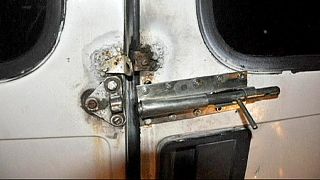 Amid Europe's migrant crisis, Austrian police say they have rescued 24 Afghan teenagers from a van which had its doors welded shut.
The vehicle was stopped as it approached Vienna in the early hours of Tuesday.
Those freed did not require medical care, but police said if the teenagers had been inside for longer, there could have been fatalities.
"The scene there was really awful. The people were sitting on top of each other, standing on top of each other and had no chance of opening the door for themselves from inside," said Thomas Keiblinger, Vienna police spokesperson.
"The doors were welded shut, the windows had bars over them. These people were not able to free themselves."
Keiblinger continued: "The driver immediately jumped out of the vehicle and fled. The police followed him and fired a shot, but the man got away. A policewoman then used her police dog and it found the man hiding. A 30-year-old Romanian was then arrested, despite strong resistance."
The rescue comes after 71 people were found dead in an abandoned truck in Austria last week. A grim discovery which highlighted the desperation of migrants and the perils of their overland journeys.
Austrian police have upped checks along their borders, looking inside vehicles in a bid to catch people smugglers.
Last week's deaths are shocking, but they will not have stopped the criminals who are cashing in on migrants searching for a better life.