Lebanon 'You Stink' protesters storm ministry in Beirut
Comments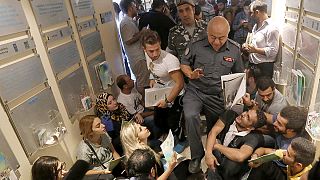 Protesters in Lebanon have stormed the environment ministry in Beirut, calling on the minister to resign.
It's the latest act by the "You Stink" movement in the ongoing dispute about uncollected rubbish in the country.
Dozens staged a sit-in on the top floor of the building while hundreds more demonstrated outside.
Local media quoted the interior minister as giving the protesters an ultimatum to leave the premises.
The dispute has led to a wider movement against the government.
Last week thousands took to the streets of Beirut in a protest over corruption.
At one stage the protests turned violent, leading to accusations that police had used excessive force.
The protesters say the waste crisis reflects the rot inside a political system packed with sectarian politicians viewed as incompetent and corrupt.
Piles of refuse have been left uncollected out in the summer sun for weeks since Lebanon's largest landfill was closed in July.