Migrants: Austria tightens up border controls
Comments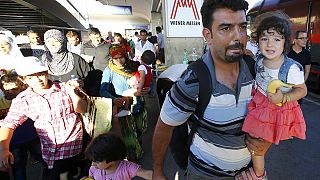 Tailbacks of more than 20 kilometres are being reported on Hungary's M1 motorway heading into Austria.
The Austrian authorities have tightened controls on incoming lorries after last week's gruesome discovery of 71 dead migrants in a truck.
Officials say 200 asylum seekers have been discovered and five alleged people traffickers arrested.
Austrian Interior Minister Johanna Mikl-Leitner told reporters they are seeing people traffickers becoming increasingly brutal and unscrupulous and have to combat that with tougher measures.
The situation in Hungary
Confused scenes at Budapest Keleti station: dozens of migrants allowed onto train to Munich. Sporadic police checks. pic.twitter.com/9yor7IAIoD

— Andrew Byrne (@aqbyrne) 31 Août 2015
In Hungary, the problem is also affecting the railways.
Two trains from Budapest have now arrived in Vienna after being stopped at the Austrian border.
With more than 300 people on board each, they were overcrowded. The extra passengers were transferred to a third train which has also made its way to Vienna.
Eyewitnesses say from there, many opted for connections to Salzburg and Munich.