Fortress Hungary: The Long Journey Part 6
Comments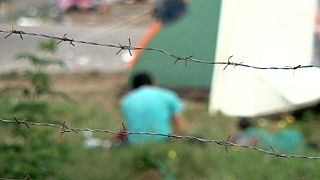 Hungary is exacerbating the problem of people-smuggling with its barrier aimed at preventing the flow of migrants and refugees into the country, the International Organization for Migration said on Friday (August 28).
The 3.5 metre high fence along its 175 km border with Serbia is a stone-cold welcome for hundreds of thousands of people fleeing war, oppression and misery.
As record numbers of migrants pass through the coils of razor-wire into Europe, Hungary wants to add mounted police reinforcements, dog patrols and helicopters.

Desperate refugees are climbing over and under the fence to get to Hungary #SyriaCrisispic.twitter.com/mYaMTEU2Az

— Mina (@mina_ysf) August 27, 2015
The refugees are undeterred, though. Many say Hungary army can not build a fence along the railway tracks.
One determined young man from Afghanistan explained to euronews why it will take more than a fence to stem the flow of desperate people trying to reach the safety of Europe.
"My father was killed there brutally, because in Afghanistan they don't pay attention to you, they don't respect humanity, they kill each other [for] nothing, if you are a little bit rich, they will kill you for your money they will be your enemy for nothing, they don't value humanity in fact," he said.

Welcome to fortress Europe where thousands of refugees brave the Balkans in race against Hungary's border fence. https://t.co/I9ZFsZe5CM

— AJ+ (@ajplus) August 26, 2015
It takes time to register the record number of asylum claims. The wait can be frustrating for people who are tired, hungry and filthy after a dangerous and difficult journey.
On Wednesday (August 26), police fired tear gas at a group of 200 people who perhaps understandably became agitated.
After completing the necessary paperwork, the refugees proceed to a transit zone where they are fed by aid agencies and charities such as the Hare Krishna organisation and others.
"If there weren't volunteers who help the people with a minimal amount of food, drink and information, then I think most of the asylum seekers simply wouldn't have a clue where to go, what to expect, what will happen to them," explained Marta Pardavi
from the Hungarian Helsinki Committee
Most people who apply for asylum protection in Hungary leave before getting the result. The majority will head further north towards the perceived safety of Sweden and Germany.