Migrant crisis: Joint border patrols by Bulgarian and Hungarian police
Comments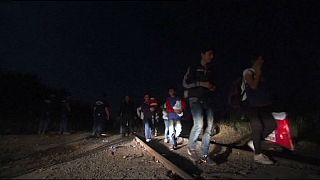 Bulgarian police are helping Hungarian colleagues mount border patrols amid suspicions that gangs from Bulgaria are heavily involved in people trafficking – exploiting refugees and migrants arriving from Syria and elsewhere.
Officers are working together at Hungary's frontier with Serbia where migrants continue to arrive, day and night.
For those who make it across the border, their ordeal is far from over.
People have been filmed escaping from a Hungarian reception centre in the border area of Roszke, climbing over a fence, pursued by security forces.
Some manage to make it over the fence, while family members get caught and are left behind.
VIDEO: Migrants Escape From Hungarian Camp http://t.co/AhxumxMgE2pic.twitter.com/vfAgNVsl5h

— RFE/RL (@RFERL) 30 Août 2015
Many migrants fear being fingerprinted in Hungary. Under EU rules, if stopped elsewhere they face being returned to the country as their official point of entry.
Once In Hungary and the EU's visa-free Schengen zone, the aim of many migrants is to move on as quickly as possible.
Stuck at a railway station in Budapest for days, potential asylum seekers have been protesting to be allowed to go to Germany, which says it will process all asylum claims received from Syrian nationals.