Ukraine and separatists agree next week as deadline for truce
Comments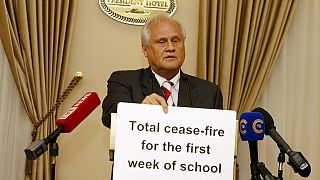 During a meeting of the Contact group on Ukraine its been agreed that in a gesture to shore up a tenuous ceasefire, there will be an end to all violations by September 1.
Both Kyiv and pro Russian separatists settled on that date as it marks the beginning of the school term.
Each side has blamed the other for an increase in sporadic clashes and shelling.
Speaking for the Contact group, the OSCE's representative Martin Sajdik expressed his deep concern about how undermining of February's Minsk agreement the number of ceasefire violations had been.
But Wednesday's meeting appears to have pulled all sides together including one of the separatist leader in Luhanks.
Vladislav Deinego said: "A rather interesting, rather balanced proposal was pronounced at these talks – to fully cease shelling as of September 1. This proposal received a positive response practically from everyone and there is hope that as of September 1 we will manage to stop the shelling.."
France and Germany are continuing to push for peace in Ukraine. Since February all sides in the conflict are supposed to be working towards a political process. To that end Ukraine's President Petro Poroshenko is to meet European Commission President Jean-Claude Juncker.