ISIL militants capture key Syrian town
Comments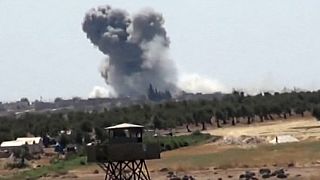 A Syrian town earmarked as a potential "safe zone" has been captured by ISIL militants.
US and Turkish authorities had been discussing for weeks a plan to establish an area in Marea where rebels could train and be supplied with weapons.
Now ISIL fighters have taken five villages close to the strategically important town which Turkey hoped would act as a buffer.
It comes as the warring sides in Syria have agreed to extend a ceasefire in a rebel-held town near the border with Lebanon and two Shi'ite villages in the northwest.
It is hoped the move will allow aid agencies to evacuate wounded.
It is the second truce in a month in those areas between the Syrian army and its Lebanese Hezbollah allies on one side, and insurgents on the other.