Venezuela's expulsion of border Colombians fills resettlement camps to overflowing
Comments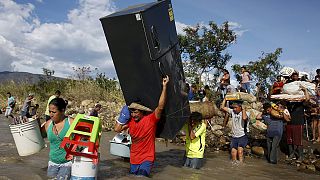 Getting out, any way they can, with whatever they can. There were desperate scenes near Ernesto Guevara on the Venezuelan-Colombian border following the dramatic dive in relations between the two Latin American neighbours.
Venezuela is deporting Colombians living along the border en masse. They are being blamed for last week's drugs gunbattle in which Venezuelan soldiers were shot. Some are not waiting for the authorities to arrive.
"The police have treated us badly. They removed us from our homes, and have not respected our human rights. Children have been disrespected and they have abused their authority," said one Colombian former resident of Ernesto Guevera.
Colombia's president is fed up of his country being blamed for all of Venezuela's ills.
"We demand respect from the Venezuelan government, respect for Colombians," said Juan Manuel Santos.
Two border crossings have been closed and the constitution has been suspended along sections of Venezuela's long and porous border with Colombia. The army and police are marking homes for demolition and forcing inhabitants out, saturating the camps set up in Colombia for the influx.
Many of these people have lived here for decades, and are devastated at the sudden uprooting.
Many stand around on the Colombian side; supposedly home but in shock, clutching a few possessions.