US can't lecture on human rights, says Jesse Jackson
Comments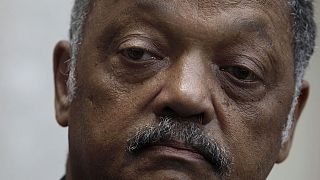 The US should refrain from attacking its neighbours' human rights records until it has tackled abuses within its own borders, the Reverend Jesse Jackson has told euronews.
The religious leader and civil rights campaigner was defending his support for a rapprochment with Cuba, which has been implemented in recent months.
Pointing out that the US, with 5 percent of the world's population, holds a quarter of the world's prisoners, he observed: "We have our own human rights challenges and I'm sure that now we are communicating we can work on that together. We are in no position to impose a standard on Cuba that does not apply to ourselves."
The US is lifting sanctions on Havana and this month reopened its embassy there after more than 50 years
Jackson said he would like to see a similar process of full reconciliation with Venezuela, which has had a difficult relationship with Washington since Hugo Chavez brought a leftist government into power in 1999.
You can watch Jo Gill's full interview with Jesse Jackson for his views on Iran, the US election and Julian Assange, on euronews from 21:45 CET