Sentsov sings Ukrainian anthem as jail sentence is read out in Russia
Comments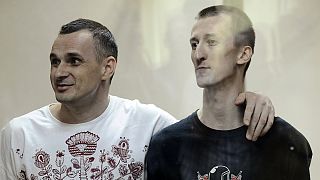 A Russian court has sentenced Ukrainian film-maker Oleg Sentsov to 20 years in prison on terror charges.
As the verdict was read out, Sentsov along with co-accused Alexander Kolchenko sang the Ukrainian national anthem. Both deny charges that they were plotting terrorist acts in Crimea soon after it was annexed by Russia.
The director has rejected the authority of the military court and said he was beaten for 24 hours in an effort to force a confession. Investigators claim his injuries were self-inflicted.
Minister comments on sentencing of Oleg Sentsov and Oleksandr Kolchenko https://t.co/R7CFJFRfKF

— jo gill (@JoGillJourno) August 25, 2015
Britain's Europe minister said he was 'deeply concerned' at the sentencing of the pair. The case has stirred up support among the Russian film-making community.
More Russian directors supporting Oleg #Sentsov: http://t.co/HC7K4qu3oF cc: shaunwalker7</a></p>&mdash; Natalia Antonova (NataliaAntonova) August 22, 2015
"We know Oleg as a powerful film director, as a humanist. He is not even able to think about killing a person he doesn't like. He is an artist. In a way, he can re-educate thanks to his art," explained Film director Oleg Figalko.
"This is absurd, this is absurd, barbarity, savagery which cannot exist in 21st century," said one sound engineer at the protest. "I have no words. It may exist in Africa, North Korea, but it is not Europe, it is barbarity, inquisition. It cannot be this way."
Ukrainian president Petro Poroshenko has slammed the decision saying that according to the Minsk agreement all Ukrainian prisoners must be freed.