They arrive by their hundreds: The Long Journey, part 1
Comments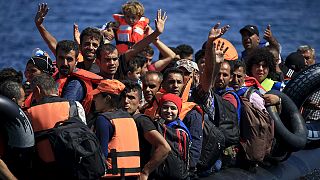 Jubilant upon arrival, hundreds of migrants per day reach the Greek island of Lesbos and, more importantly for many, the European Union.
Νο work, no life...war. We need a life, that's what we need. We need a life, there is no life in Syria.
Traffickers send the groups, mainly made up of Syrians, to the island from Ayvalik and Canakkale in Turkey.
Accustomed to receiving daily boat loads of people, volunteers are on hand to welcome the arrivals as they took the first steps in their new lives.
One Syrian refugee told euronews: "Νο work, no life…war. We need a life, that's what we need. We need a life, there is no life in Syria."
The next stage
But their arrival in Lesbos was not an end to their journey. The next stage was an eight-kilometre walk to a nearby village.
The intense heat proved too much for many and some ended up sleeping on the side of the road.
We spoke to a woman who made it to the village, but was facing the prospect of another journey to reach one of the island's migrant camps.
She told euronews: "We walked for four hours to get here. We sleep outside. Now we are here, with good people that help us. We want to go to another place, a good place. We need some help."
Life in the camps
There are two camps on Lesbos: one for Syrians and one for Afghans, Pakistanis and Iraqis.
But there is not enough space. With around 1,000 new arrivals every day, Lesbos is currently home to some 10,000 migrants.
Not everybody has a tent to sleep in and there is not enough food and water.
Elli Vlassi, a volunteer with the Red Cross, said: "They keep telling us they want to leave for Germany, Sweden, anywhere in Europe! They don't want to stay in Greece and especially not in Lesbos.
"They feel isolated because it's an island. They are really afraid. They know nothing about the island, they know nothing about Athens."
Some 50 kilometres away from the beaches where the migrants first arrive is the port town of Mytilene. Many travelled the entire way there on foot.
Around 600 migrants and refugees are there currently, waiting to be issued with papers, before continuing north to Athens, and often onwards to FYR Macedonia, Serbia and Hungary.
It's a gruelling trek from their home countries to Greece and with the colder seasons approaching questions are being raised about how much longer the situation can continue.
Migrant arrivals Europe-wide
European border management agency Frontex says an estimated 340,000 migrants entered Europe between January and mid-August 2015.
This number is more than double the figure for the same period a year earlier. In the whole of 2014, 280,000 people arrived in Europe, according to Frontex.
Arrivals in Greece:
2014
43 500
---
July 2015
50 242
---
January – mid August 2015
160 000
Numbers of migrants who crossed the Mediterranean arriving in 2015:
Total
264.500
---
Greece
160.000
---
Italy
104.000
---
Spain
1.950
---
Malta
100
In images
The latest from our correspondents on the ground