More victims feared in UK airshow crash
Comments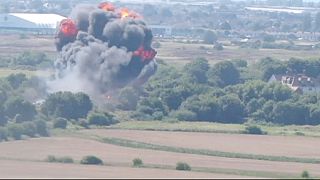 British police have warned more victims could emerge from the Shoreham airshow crash once the wreckage of the plane is lifted from the road where it exploded.
So far 11 people are thought to have died.
The plane which was attempting a loop during an aerial display as part of a two-day airshow, crashed onto the A27 – a busy dual carriageway in southern England – on Saturday. The pilot, who is also a British Airways captain, survived but is critically injured in hospital.
A crane is expected to lift the wreckage of the aircraft ( a Hawker Hunter fighter) later today. That is when police fear more bodies may be discovered.
It's unclear what caused the accident. Witnesses have described the plane has flying too low for the manoevre, but aviation experts have suggested the engine may have cut out.
Either way the result is the worst British airshow disaster in living memory.