Italy: More than 1,500 migrants arrive in Sicily and Sardinia
Comments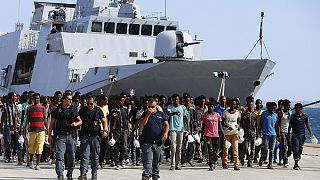 More than 1,500 migrants landed on Italian shores on Monday, as the influx of desperate people fleeing conflict and poverty continues.
Some 550 migrants were brought to shore in the Sicilian capital of Palermo, including children – among them dozens of unaccompanied minors. More than most, these youngsters face an uncertain future.
Rescued by a Norwegian ship, almost 1,000 people arrived in Sardinia on Monday – also yearning for a fresh start.
After difficult and dangerous journeys, more than 100,000 migrants have reached Italy so far this year by sea.
The rise in migrants in the Mediterranean is largely the result of political instability in Somalia and Eritrea and the breakdown of order in Libya, as well as Syria's civil war.
More than 2,000 people have died trying to make the crossing this year.
For many of the survivors, the hope now is to move on to wealthier northern Europe.