'Back to school' delayed in Gaza amid UN teachers strike
Comments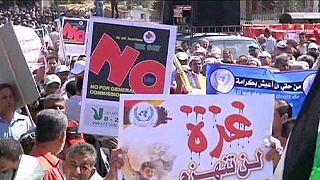 More than 200,000 children in the Gaza Strip were unable to return to school on Monday because of a strike by teachers.
Teaching staff are angry at cost-cutting measures proposed by the cash-strapped UN agency that employs them – notably moves forcing some to take one year's unpaid leave.
UNRWA, the United Nations agency for Palestinian refugees, has now frozen the moves after receiving fresh financial support but workers are demanding they be dropped completely.