Greek migrant crisis: Antifascist rally takes place on the island of Lesvos
Comments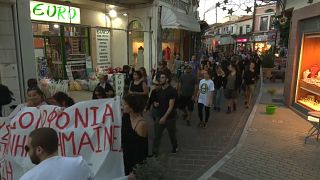 Residents in Lesvos are divided. Some say that they are on the refugee's side and that the island has open arms for them.
Others say that the island cannot take any more pressure as the migratory flows increase while Russia and Syria are preparing for an assault in Idlib.
A lot of the residents raise criminality issues.
"We see clashes in the streets, blood, trafficking of drugs," said one man. "It seems again that the situation is out of control. The truth is that I am worried for the winter because when it gets colder these people wil not be able to stay outside, I am worried that they will try to take shelter in abandoned buildings to live there, and these as you understand affects the neighbourhoods."
One young woman said the situation was getting out of control: "It would be good to have a balance, that's why we are trying to get them out of here and send them to another place."
"This is a very small community and when you have grown up with the same people and everybody knows everybody and suddenly you see so many foreigners to come, this is an awkward feeling and I understand that. But the extremists cannot be justified.''said another young man.
Meanwhile, an antifascist rally has taken place on the island to commemorate the 5th anniversary of the death of Pavlos Fyssas, the leftist raper that was murdered by a member of the far-right political party Golden Dawn and to declare support for the migrants.