Germany: tension flares over refugee arrivals in Heidenau
Comments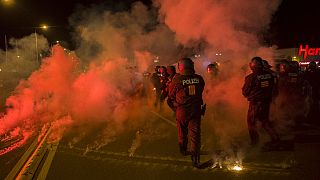 Tensions were running high in Heidenau, an east German town near Dresden, on Saturday, as right-wing protesters demonstrated against the arrival of refugees.
On Friday night, hundreds of people filled the streets to try to stop busloads of asylum seekers reaching their accommodation in the town.
Dozens of police officers were injured when radicals, many from the pro-Nazi NPD party, took over the demonstration and clashes broke out.