Beirut protesters clash with police at demonstration over uncollected rubbish
Comments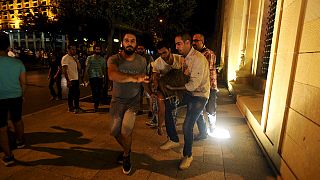 At least 20 people were injured on Saturday during clashes between police and protesters in Beirut, according to the Red Cross.
Police used water cannon, tear gas and rubber bullets to disperse thousands of of people demonstrating near parliament over uncollected rubbish in the city.
Some of the protesters threw rocks and set rubbish on fire.
Eight people were hospitalised and 14 people treated at the scene, the head of Lebanon's Red Cross told Lebanese broadcaster LBCI.
There were reports that live ammunition was also fired.
Rubbish has been piling up on the streets of the Lebanese capital, after Beirut's main landfill site was closed last month and the government has been unable to find an alternative.
The demonstration was organised online by activists calling themselves "You Stink", who are campaigning for a swift solution to the rubbish problem.
Clashes between police and demonstrators continued as night fell.