Greece: Far-left rebels break away from ruling Syriza
Comments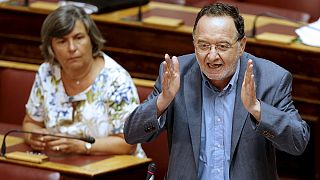 Far-left rebels in Greece's ruling Syriza party have broken away to form a new party, according to a parliament deputy speaker.
The new political group, called 'Popular Unity', will have 25 deputies.
It will be headed by former energy minister Panagiotis Lafazanis, the leader of Syriza's far-left faction which defied outgoing Prime Minister Alexis Tsipras's call to back a third bailout programme.
Tsipras resigned on Thursday after losing his majority – nearly a third of Syriza MPs refused to back the programme in parliament last week.
With 25 Members of Parliament, 'Popular Unity' would be the third largest bloc in Greece's 300-seat parliament.
Greece's president today formally gave the conservative opposition a chance to form a new government but the country appears almost certain to be heading to an election next month.