Chinese authorities try to calm fears of Tianjin residents following blasts
Comments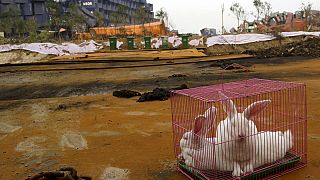 Four new fires have broken out at the site where two huge blasts last week killed at least 116 people in the Chinese port city of Tianjin.
Authorities placed rabbits, chickens and pigeons near the scene of the explosions in an apparent attempt to calm fears about toxic chemicals in the air and water.
City officials have repeatedly said contaminants found in the wake of the blasts pose no risk to the public.
"Judging from the test results and the data collected, the overall air pollution at the core zone is controllable and pollution outside that area has not exceeded the level set nationally," said Tian Weiyong, Director of the Emergency Response Unit at the country's Ministry of Environmental Protection.
A large number of dead fish have been floating in Tianjin's river, however city officials said they had died from an oxygen deficiency and not from poisoning.
"I want the government to buy my apartment because this whole area is affected and my son is afraid to come back here," explained local resident Li Ying.
"Our biggest problem with our homes is the chemical pollution," said Zhang Jie, a local woman affected by the blasts. "Everybody is worried about the water our children are drinking the air they are breathing."
Concern has been growing gradually in the city over the potential impact on human health after authorities confirmed that more than 700 tonnes of deadly sodium cyanide were stored at the warehouse that exploded.