World's oldest message in a bottle confirmed after 109-year voyage
Comments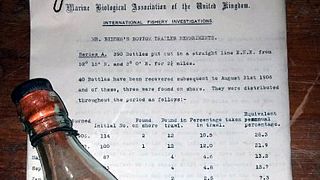 Scientists at Britain's Marine Biological Association in Plymouth were amazed when they were contacted by Marianne Winkler.
During her April holiday on Amrun island in Germany she found a postcard in a bottle addressed to the MBA. Now it is believed to be the world's oldest message in a bottle.
It was one of over a thousand set adrift in the North Sea between
1904 and 1906 by the MBA late president, Mr George P. Bidder, in the pursuit of plaice.
Bobbers and bottom-crawlers
Bidder's novel approach to measuring ocean currents helped understand the effects of trawl fishing, and also identified new deep-water forces. He was a forerunner of today's Oceanographers charting lost container-loads of bathroom ducks.
The fishermen netted 55% of the release but some disappeared never to return. Many washed up on the shore somewhere. However with many returning to British beaches Bidder concluded there was a a deepwater counter-current.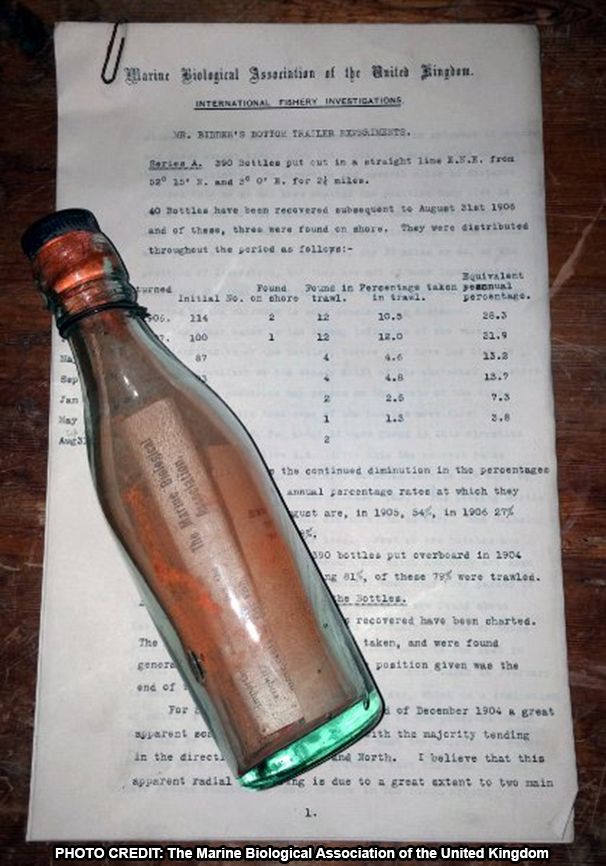 Floating rate
Had you fished the bottle out of the water closer to 1906 the reward for sending the card back to Plymouth would have been one shilling, worth nearly 70 euros in the pocket today. The MBA is delighted with its probable new record and has already promised Marianne her reward is on its way.
In March 2014 a 101-year old bottle was fished up near Kiel, this time carrying a scribbled private request. German authorities ensured it was delivered to the sender's astonished granddaughter.
SOURCE:
Der Spiegel