Tianjin firefighters pay tribute to their lost colleagues
Comments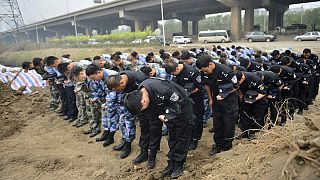 Almost one week since the massive Tianjin warehouse blasts and emergency crews have held a ceremony to remember the victims.
The death toll has climbed to 114, 39 of them firefighters as are most of the 70 still missing.
Nearly 700 people are in hospital.
Their tributes paid, it's back to work, clearing away the toxic material from the blast site and trying to discover what happened to those still unaccounted for..
Deputy chief of the fire department within the ministry of public security, Niu Yueguang, said there were over 40 kinds of dangerous chemicals on the blast site, including poisonous ones. And over 2,000 containers.
Tianjin residents have held their own vigil for the victims. Before the two massive blasts several firefighters were already at the scene trying to control a blaze at the chemical facility .
Candles for victims of Tianjin blast http://t.co/nS6aHQIYAUpic.twitter.com/qImcdLpNhf

—

ABS

-

CBN

News (@ABSCBNNews) August 18, 2015
One local said: "So many volunteers, so many firefighters struggled to protect our homes. I think they are really great. I don't know what's the right thing to say other than to thank them."
Some 17,000 homes were damaged in last Wednesday's blasts and their shockwaves. And at least 6,000 people are reported to have been displaced.