Syria shelters antiques from potential ISIL destruction
Comments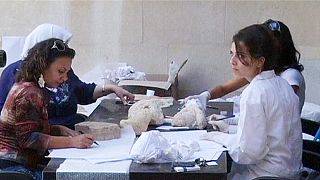 Thousands of priceless antiquities in Syria are being gathered and stored in Damascus to protect them from the Islamic State militant group and other potential war damage.
The country is home to six UNESCO World Heritage sites.
Some monuments and shrines have been destroyed along with their treasures; other relics have been sold on the black market.
But the authorities say 99 percent of Syrian antiquities are now in safe hands.
"We are talking about a heritage that has been salvaged from criminal hands that aim to plunder the antiquities to sell them in the black market through the global mafia, and from the destruction that could befall them by the hands of Daesh (ISIL)," said Maamoun Abdulkarim, head of Syrian Antiquities and Museums.
In February the UN Security Council banned all trade in antiquities from Syria.
In Damascus artefacts are being archived, photographed and packaged.
Museum authorities stress the operation is being funded by Syria without any overseas financial help – though the EU and others have provided expertise and training.
See also:
Heritage for Peace, a group of international heritage workers focusing its efforts on Syria.
A CNN report on Syria's struggle to save its heritage.