'Contraband cheese' gang broken up by Russian police
Comments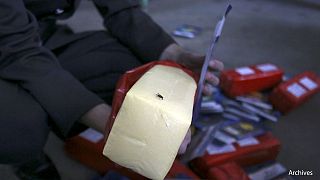 Russian police say they have broken up a gang producing millions of dollars worth of contraband cheese using banned Western ingredients.
Six people have been arrested; officers accuse them of making cheese with a banned curdling agent.
The amount of cheese seized is 30 million dollars, or 27 million euros.
Russia banned the import of some Western foods and ingredients in retaliation to sanctions over the annexation of Crimea.
President Vladimir Putin recently signed a decree that food breaching Moscow's own sanctions must be destroyed.
But the move has angered anti-poverty campaigners.
Nearly 400,000 have signed a petition calling for the food to given away.
This week marks the one-year anniversary of Russia's embargo on goods from the EU, in retaliation to sanctions imposed on Moscow over the crisis in Ukraine.Watch our video to learn more about the embargo…

Posted by euronews on Friday, 7 August 2015