More deaths at Spanish bull events
Comments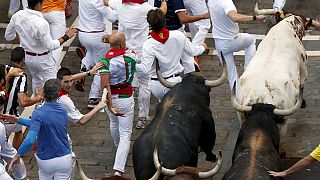 Four more people were gored to death by bulls over the weekend in Spain.
A local councillor died in Penafiel, a small town north of Madrid.
José Alberto Peñas López was taking part in a bull run when the animal turned and charged repeatedly at him.
Three days of mourning have been declared.
In Lerín, a small village south of Pamplona, an 18-year-old died after being gored in the abdomen.
Two other spectators were also gored to death on Friday.
One in Blanca, near Murcia, and another in the Valencian town of Museros.
It means at least seven people have died this summer in Spain during events involving bulls.
The El Pais newspaper called the death toll "unusually high".