'Immersed in water, fuel and human excrement': 40 dead on migrant boat
Comments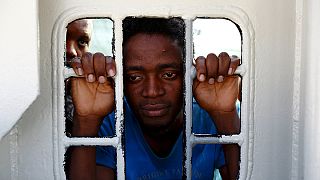 At least 40 migrants have been found dead in the hold of a waterlogged boat crossing the Mediterranean.
The Italian Navy says it discovered the bodies "immersed in water, fuel and human excrement." The victims are thought to have suffocated after inhaling fuel fumes when the boat took on water.
It was intercepted some 34 kilometres from the coast of Libya.
Italy's Interior Minister Angelino Alfano called on the European community to do more.
"We're dealing with another tragedy near the Libyan coast. We're just conducting the rescue operation. It's in Libyan territorial waters, not ours. Either the international community is capable of resolving the Libyan problem or today's tragedy won't be the last," he warned.
Around 400 people were said to be on the boat. Admiral Pierpaolo Libuffo, head of the Italian rescue operation, said 312 had been saved, including 45 women and three children.
Migrants who have safely arrived in Italy say they are charged between 1,200 and 1,800 dollars for a place on the deck of boats.
Human traffickers running the operations from Libya are said to charge around half that price for a spot in the overcrowded hold.
Record migrant deaths
The news came a day after the release of a report by the International Organization for Migration (IOM), putting migrant deaths at sea this year at record levels.
Total fatalities calculated by the IOM's Missing Migrants Project now stand at over 2,300.