Europe struggles to find answers to the massive migrant influx
Comments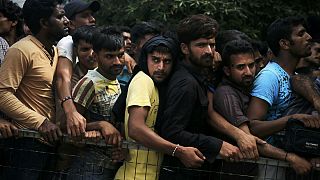 In this week's 'Perspectives' four European broadcasters look at the growing migrant crisis in Europe.
Two look at the situation on the Greek island of Kos. Switzerland's TSR and Italy's Rai1 examine the lack of resources and manpower deployed by the Greeks, and the disintegration of law and order as hundreds wait to be processed in the summer heat, and the police are overwhelmed.
Spain's TVE goes to Salou, a favourite tourist spot in Catalonia, where migrants' desperate struggle to survive by making money any way they can has fallen foul of the police, and where a Senegalese man fell to his death in unexplained circumstances this week.
Finally France 2 takes another angle and sees how all the negative press about migrants in Calais is hurting the tourist trade. Many British campers are cancelling their holidays, scared off by British tabloid horror stories.