UK government fast-tracks fracking in England
Comments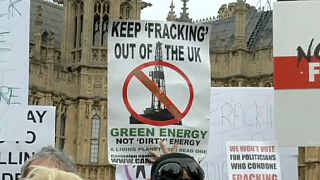 The British government has announced a series of measures which would fast-track fracking applications in England.
Ministers will be allowed to intervene on shale gas planning applications if they believe local councils are not processing them quickly enough, a decision likely to prove fractious.
The government believes that developing shale gas is a national priority to ensure energy security, while campaigners claim they are running roughshod over local people.
Fracking was suspended in Lancashire in 2011 after it triggered two small earthquakes.